Dimensional Letters
View Sign Gallery
Attractive, irresistible, and eye-catching, custom dimensional letters, signs, and graphics are a creative choice for just about any brand that desires to catch the eye of would-be patrons.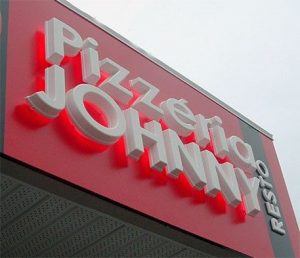 Dimensional letters, often times known as 3D or raised letters, are custom text or shapes delivering interest and depth. Relatively easy to produce, these signs are fabricated, cast, molded, or cut from solid material to produce this look.
Dimensional signs offer what all business owners desire for their brand: durability, visibility, and an outstanding look.
Irving Signs & Wraps will testify that brandable dimensional signs are an intelligent answer for just about any company. It doesn't matter if you run a hotel, professional services business, warehouse facility, educational facility, etc., our dimensional letters will look great both inside and outside of your facility.
Our custom produced raised letters are purposely engineered to improve brand visibility in order to help extend and expand your advertising reach. Irving Signs & Wraps uses the highest quality elements you can find so after installation, they will keep promoting your brand and services for several years.
Call Irving Signs & Wraps today at (972) 325-0922 for your Free Consultation!
Appealing Storefront Signage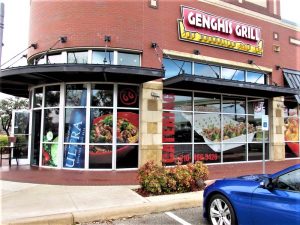 Dimensional letters aren't solely for your exterior; they will also supply the inside of your business a polished atmosphere as office logo signs. When placed next to your foyer, your logo and branding will certainly be the first and foremost element your guests recognize the first time they come into your establishment. Dimensional logo, reception, and lobby signs are surprisingly common, and they can be manufactured using a mixture of materials and mediums, with lighting options, if preferred. Dimensional letters may also be used as helpful wayfinding signage and other exciting custom signage for a major impression to convenience stores, restaurants and retail stores.
In spite of the name, 3D letters are not just limited to simply letters either! Your signage can include logos, numbers, images, or a mix of those elements installed on the walls of your premises. Irving Signs & Wraps's team of knowledgeable graphic designers will assist with developing interior signs and displays specially designed to suit the specific character and individuality of your brand. If you want to develop a custom dimensional impression that truly makes your branding stand out, Irving Signs & Wraps delivers dimensional lettering that represent your brand.
Attractive Indoor Lettering
Eye-catching and appealing, dimensional letters are an excellent choice for your building's storefront sign. They add dimension, depth, and texture for your storefront, while exuding a more sophisticated vibe. The great versatility dimensional letters have is also a considerable advantage. They are generally attached on to your building exterior, they are also effective when used with message boards, post and panel signs, and pole signs. Channel letters are an alternate choice to dimensional letters.
Though 3D letters are not internally lit, Irving Signs & Wraps can feature halo lights, outline lighting, or spotlights when performing sign installation, so that your signs are evident even during evening. Our signage ensures your company attracts attention and your brand message makes a big impact.
Durable Dimensional Letters
Irving Signs & Wraps manufactures dimensional lettering and graphics from a variety of materials that best fit your brand. Depending on your placement and design, we will choose from metal, plastic, wood, and/or light foam for the key material for your project.
A popular sign material, plastic is often selected mainly because of its versatility and includes acrylic, coroplast, vinyl, and PVC. The ruggedness and hardiness of plastic lettering causes it to be a great option for business exterior dimensional signage and lettering. Metal is a fantastic option for indoor letters resulting from its elegant look, however is really long lasting when applied on the outside of your business. Metal as a sign making material consists of aluminum, bronze, copper, brass, and stainless steel. A popular choice for colorful, eye-catching lettering, light foam may be used because it is sturdy, lightweight, thick, and durable. Our professionals will be able to assist you with deciding on the most effective sign style and media to generate your planned finished look and feel without overstretching your allowed budget.
Full-Service Sign Company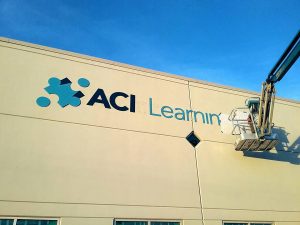 Deciding on the perfect sign for your brand and business isn't easy. It can take time, experience, research, patience, and a surefire production plan. When you work alongside Irving Signs & Wraps, you can be certain that you won't need to go through all this on your own. Our dedicated team of sign makers and graphic artists gladly share their know-how to lead you throughout the commercial signage manufacturing process.
Irving Signs & Wraps is your local full-service sign and graphic provider. We create customized sign designs, we support you in identifying the most appropriate fabrication media for your business purpose, needs, and budget, and we make sure your signs, graphics, and images are strategically installed. Our professionals are always only a phone call away should you ever need any assistance with your signage elements.
Free Dimensional Letters Consultation
Irving Signs & Wraps gives practically never-ending customization possibilities for your brand marketing signs, graphics, and displays. When you want to draw more potential buyers inside your location, build your corporate branding, or make it more intuitive for customers to navigate your space unassisted, our dimensional letters, logos, and images will work perfectly for you.
Call Irving Signs & Wraps today at (972) 325-0922 for your Free Consultation with a Dimensional Letters Expert!