Irving Wall Graphics
View Wall Graphics Gallery
Irving Signs & Wraps manufactures custom, large-format wall murals and graphics that are certain to impress customers and guests.
A good choice for commercial use, vinyl wall graphics convert a plain hallway into a lesson on your brand history, can prominently display your logo in your Irving business foyer, or add an important message to a boring, blank wall.
Regardless of your planned placement, purpose, or size, from hand washing signs in bathrooms to impactful break room custom vinyl wall graphics, our experts plan, produce, and install every sign and graphic your company requires. If you know just what signage elements you need or need help in deciding upon which signs and graphics will be appropriate for your brand, space, and business needs, our advisors will provide the perfect custom wall graphics for you.
Call Irving Signs & Wraps at (972) 325-0922 for a Free Consultation!
Complete Design Control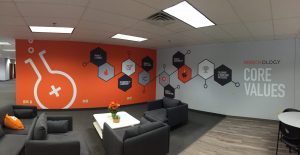 Our company custom produces wall graphics custom crafted for your organization, branding efforts, and commercial space. We only use high-quality and long-lasting vinyl to build custom branded wall graphics and lettering that can display or say any message, feeling, or story you want. From large-format, high-impact story-telling murals to separate wall decals that create interest, we are here for you.
Looking to update your graphics? Easy! Our removable wall graphics can be taken down whenever you wish and either returned back to your undamaged, painted wall, or restored with new graphics to exhibit the most current business promotions, seasonal changes, or new products.
Full-Service Wall Vinyl Company
Still deciding exactly what you want? That's alright! Our experienced Irving team of sign and graphic designers assist with all aspects of sign design. We manage every phase of the sign creation process, helping you from conceptualization all the way to professional installation in your business. If necessary, we can even perform an on-site evaluation, including measuring for a perfect fit.
Irving Signs & Wraps uses the right materials for your job, which means you can be assured that your wall vinyl will be durable and eye-catching with a smooth finish.
Professional Vinyl Graphics Installers
Self-installation of vinyl is possible, however for an attractive finish, you should trust a skilled vinyl installation team to put your artwork in place. Huge sheets of vinyl are very difficult to place, from time to time which causes cracks, creases, or tears causing an unprofessional appearance.
When working with Irving Signs & Wraps, should there be any challenges that develop while we are performing the installation of your graphics, like damage to your wall graphics, we will exchange it totally free, unlike damages experienced when performing consumer installation.

Free Wall Graphics Consultation
We are determined to supply the absolute best signage elements for your Irving organization. Our objective is to end up being your trusted vinyl sign provider for all your brand signs and graphics needs. With an extensive selection of sign and graphic possibilities, we ensure that your facility looks engaging, exciting, and equipped to make it easier for the new customers and guests your sign elements will pull in every single day.
Call Irving Signs & Wraps at (972) 325-0922 for a Free Consultation with a Wall Graphics Expert!