Irving Window Graphics
View Window Signs Gallery
Generate excitement and intrigue for your newest and best goods or services with appealing customized window graphics!
Perhaps you are selling specified services or goods, and you desire to supply privacy for your patrons within your business, or just wish to show your future customers about your business and brand, engaging vinyl window signs and graphics get your business and brand recognized and recalled.
Irving Signs & Wraps is your trusted Irving vinyl window sign provider, manufacturing alluring window graphics, displays, decals, and signs that work hard for you.
Call Irving Signs & Wraps today at (972) 325-0922 for your Free Consultation!
Window Signs for All Businesses
Irving Signs & Wraps delivers the best window displays for enhanced brand recognition. Our seasoned window sign experts will produce unique window graphics that are in-line with your business goals, complement your current branding, and effectively sell your products.
Our window sign and graphics include:
Entire Vinyl Window Wraps
Full-Color Posters
Clings and Banners
Cut Vinyl Graphics and Lettering
Frosted/Etched Privacy Film
& much more!




Our window signs and graphics specialists make sure that you get the branded signs and graphics for your brand needs. We find out about your Irving business and brand to make well-informed recommendations for signs and graphics that are in-line with your brand. Our professionals are eager to help support your business goals with engaging and attractive window graphics, banners, lettering, signs, wraps, and more.
Retail Window Graphics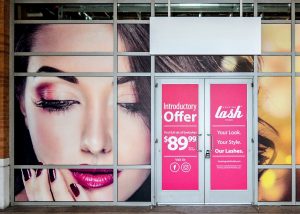 Retailers have a lot of time and effort invested in their promotional and seasonal window displays. An outstanding window display is engineered to invite motivated possible customers into your store. When you're marketing a special event, sale, or promotion, or are looking to improve sales of a new, hot item; exciting window displays are a fantastic way to accomplish this.
Typically, full window displays are updated on a monthly or quarterly basis to show off the most relevant merchandise you have to offer. Irving Signs & Wraps is excited to offer irresistible window signs, graphics, and displays to highlight your special sales and events and useful products in a high-quality way that can generate more visitors.
Privacy Window Vinyl For Offices
Business offices, such as service professionals, counselors, law firms, real estate agents, insurance brokers, and many more, make use of customized vinyl window film on their business exterior windows for privacy, promotion, or branding functions. We provide privacy film that provides the same physical appearance as an etched glass window pane, without requiring the cost and hassle of replacing entire glass panes.
A number of professionals also desire to have their company name, logo and branding elements, or other specific business information integrated within their vinyl privacy film for increased business and brand visibility. Our team of professionals can craft one-of-a-kind privacy film custom-crafted specifically to your company, or provide examples of commonly chosen vinyl film products so you can make an effective plan for your location.
Window Signs for Service Providers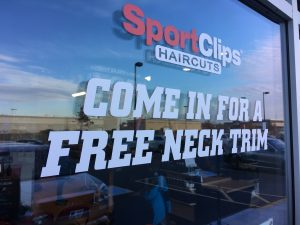 Even as a service provider, you have the option to attract new clients and strengthen their brand visibility with a unique window display! Build engagement with custom graphics, murals, posters, banners, or lettering showcasing your most beneficial solutions, special offerings, or even make an exciting custom window display that showcases your best services. Our professional Irving signage fabricators work with you to build the ideal branded display that you expect. We take care of production as well as the skilled installation of your custom branded window signs and graphics.

Free Window Graphics Consultation
Give Irving Signs & Wraps a call today at (972) 325-0922 for your businesses Free Consultation with a Window Graphics Specialist.
Call Irving Signs & Wraps today at (972) 325-0922 for your Free Consultation with a Window Graphics Specialist!